Simply Strength
This class is taught by: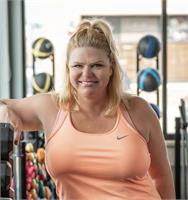 I had been coming to InFIT as a client for over two years and during that time, I was so inspired by all the positive energy, I decided I wanted to join the team. My two passions are Step and Group Cycling! I hope to inspire clients as I have been, and show them that working out is not something you "have" to do, it is something you "get" to do!
This class uses both equipment and body weight for resistance to build muscle strength and endurance. A total body workout, that will vary weekly in exercises, load, and reps to keep the body challenged and the mind fresh!
Upcoming classes:
Sign Up

Mon

Dec 17 6:00 pm - 6:55 pm

with

Angela

Moon