BOSU®
This class is taught by: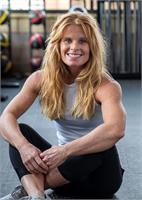 I'm Kelly Powell. I invite you to step out of your comfort zone, and be ok with being 'uncomfortable' – just for a bit. My teaching style is hard core and challenging, but with modifications appropriate for both the beginner and the elite athlete. My goal is to maximize each individual's personal health and fitness goals, and to tap into their true potential. Together, let's burn some serious calories, maximize your cardiovascular and muscular endurance, and have fun! My favorite classes to teach are Kickboxing, Group Strength, Insanity, Tabata, Cardio Mix, and Bootcamp.
In my spare time I choose 'running' as my go-to. As an experienced runner, I have completed road races of distances ranging from 5ks to 26.2 miles, and have gained valuable experience in trail running training for The Coastal Challenge, a 6-day stage trail race in Costa Rica, and the Transrockies, a 3-day stage race in Colorado. These experiences have helped to inspire and motivate me to design a speed training program called Run Strong. This training program is designed to reduce risk of injury, increase leg-speed turn over, and keep the mind 'fresh'! I became a personal trainer in 2010, and enjoy training individuals of all ages and levels. Personal training, to me, is about helping you look, feel, and perform like you never thought possible. My focus is to motivate, inspire, educate and encourage along the way.
This total body workout combines strength, cardio and balance training. Take the challenge to increase the functional strength, stamina and balance of your entire body- especially your CORE!