TRAINING-TRX
This class is taught by: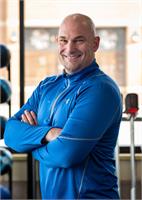 Mark is ready to help you with your training needs. "I believe that whatever goals you have, it is attainable. My goal as a Personal Trainer is to help you along the way and provide you with positive support, encouragement, and the proper workouts to help you attain your goal(s)."
Certifications Include:
Personal Trainer through the National Exercise Trainers Association
Plyometric Training through the International Fitness Professionals Association
Kettlebell & Spin certified with National Exercise Trainers Association
TRX Certified
CPR & AED Certified
Please purchase A-la-carte TRAINING sessions to sign up. You are not able to use group exercise classes to register for this session.
The TRX suspension trainer:
• Delivers a fast, effective total body workout
• Helps build a rock-solid core
• Increases muscular endurance
• Benefits people of all fitness levels
• Individually challenge yourself – modify your body position to make moves easier or more challenging!
Upcoming classes: