a-la-carte TRAINING-Ropes
This class is taught by: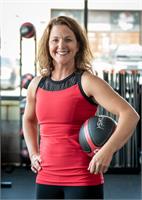 Theresa Eicher is a mother of 7 who realizes that the key to a healthy, stress-reduced lifestyle is a great workout or personal training session. Join Theresa weekdays at 5 or 6 a.m. for a variety of formats, or schedule a time for Rope Training, Buddy/Small Group Training or Personal Training. She is ready to help you reach your fitness goals.
Please purchase A-la-carte TRAINING sessions to sign up. You are not able to use group exercise classes to register for this session.
Rope training is a four person, dynamic workout. We will use the "battle ropes" to get a functional workout that begins at the core and extends through the outer extremities while increasing cardiovascular endurance at the same time. The ropes can be used in multiple ways to help you break through your fitness plateaus and train in a way you never have before. If you're ready for something new and for a fun challenge, then the battle ropes would be a perfect fit for you.