Ripped Up!
This class is taught by: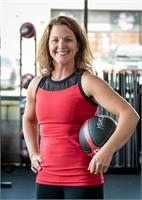 Theresa Eicher is a mother of 7 who realizes that the key to a healthy, stress-reduced lifestyle is a great workout or personal training session. Join Theresa weekdays at 5 or 6 a.m. for a variety of formats, or schedule a time for Rope Training, Buddy/Small Group Training or Personal Training. She is ready to help you reach your fitness goals.
Upper body exercises, including abdominals! Ripped Up is the perfect class to sculpt your upper body.
Ask the instructor to help you select your weights if you are new to class.
Upcoming classes:
Sign Up

Mon

Jan 28 5:00 am - 5:55 am

with

Theresa

Eicher