Les Mills BODYPUMP™ Express
This class is taught by: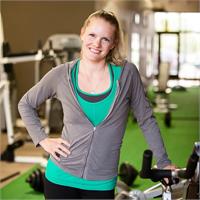 I found InFit while I was pregnant with my second child. The enthusiasm and positive energy of the entire staff kept me motivated to exercise throughout my pregnancy and after. This eventually led to me joining the InFIt team. As a Mom I know how challenging it can be to make time for exercise but I also know how important it is! I hope to share with you my knowledge and passion for fitness and help you achieve your own personal fitness goals.
Bethany has a B.S. in Kinesiology (emphasis in sport psychology) and is NETA certified in group fitness and group cycling.
BODYPUMP™ is the original barbell class that strengthens your entire body. This 45-minute workout challenges all your major muscle groups by using the best weight-room exercises like squats, presses, lifts and curls. Great music, awesome instructors and your choice of weight inspire you to get the results you came for – and fast! Like all the LES MILLS™ programs, a new BODYPUMP™ class is released every three months with new music and choreography.
Upcoming classes: