Hercules
This class is taught by: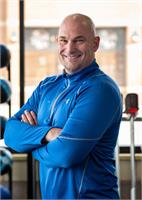 Mark is ready to help you with your training needs. "I believe that whatever goals you have, it is attainable. My goal as a Personal Trainer is to help you along the way and provide you with positive support, encouragement, and the proper workouts to help you attain your goal(s)."
Certifications Include:
Personal Trainer through the National Exercise Trainers Association
Plyometric Training through the International Fitness Professionals Association
Kettlebell & Spin certified with National Exercise Trainers Association
TRX Certified
CPR & AED Certified
Hercules, Spartacus on Overdrive!
Hercules is the same concept as the Spartacus class you have enjoyed for years.
3 sets, 13 exercises including strength, cardio, endurance, plyometrics, and core work.
Dumbbells, Medicine Balls, Bosu Balls, Kettlebells, Steps with raisers all will be used.
1st set consists of each exercise going for 40 sec and then you get a 20 sec rest, then on to the next exercise just like Spartacus until all 13 exercises are completed.
The difference comes in the 2nd set where each exercise is 50 sec on with a 15 sec rest followed by a 3rd set that is 1 min of each exercise with only a 10 sec of rest!

After each set, there is a full 1 minute break.
Come conquer Hercules!!
Upcoming classes: