Haiti Fundraiser Jam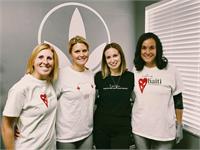 90 min class lead by Amy, Mark, Renae and Janelle. Please come out and support some inFITters as they travel to Haiti in February. Cost of this Special Event Class is $15. All proceeds from this Jam will go directly to help offset the cost of fellow inFITters, Renae, Shannon, Marisa and Lisa's trip to serve God's people in Port-au-Prince, Haiti.
For more information on the missions and work of Healing Haiti or for information on short term mission trips, please visit
www.healinghaiti.org
Thanks for your SUPPORT!
Upcoming classes:
Sign Up

Sun

Dec 03 4:30 pm - 6:00 pm

with

inFIT

Team