COMBAT ZONE
This class is taught by: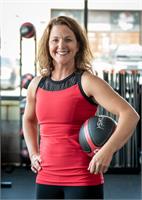 Theresa Eicher is a mother of 7 who realizes that the key to a healthy, stress-reduced lifestyle is a great workout or personal training session. Join Theresa weekdays at 5 or 6 a.m. for a variety of formats, or schedule a time for Rope Training, Buddy/Small Group Training or Personal Training. She is ready to help you reach your fitness goals.
This boxing workout sculpts your body and shreds calories. Challenge every single muscle to the max. You will be lead through explosive boxing rounds working your entire body on our weighted boxing bags.
All levels welcome. Intensity encouraged.

Each client will need boxing gloves. Gloves and wraps at inFIT are $25!! Stop in to purchase or contact info@inFIT.org reserve yours. inFIT does have a few gloves for clients to use, first come, first serve basis.
Upcoming classes: