Barre + Yoga
This class is taught by: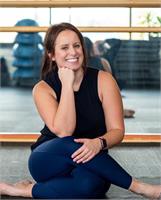 Kiz Gorham started practicing yoga in April of 2015 and was instantly hooked. She became 200-RYT certified in Elk River, MN. She believes everyone would benefit from a little yoga in their life. Whether you're coming to class to clear your mind and focus on your breath, or get that full body work out, she hopes to see you on the mat! Namaste!
Join Kiz in this Barre class with power flows and a mindfulness boost. Fusing yoga to assist in achieving long lean muscles, with the intensity of a barre workout- you'll break a sweat and keep moving throughout this 55 minute class.
This is a total body workout geared toward strengthening & toning the physique for a lean sculpted look.
Upcoming classes: