TRAINING -Power.Strength.Endurance
This class is taught by: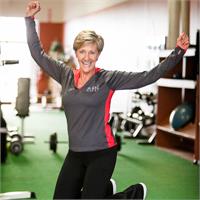 Hello! My name is Jone Briese, (pronounced Joan Breeze :) I believe in fitness, nutrition and better health as a way of life, FOR LIFE! Becoming a Certified Personal Trainer allows me to help you achieve the same, along with the increased quality of life.
30 years ago, I was skeptical taking my 1st group exercise class. (No I did not wear a leotard, YES, I had big hair!) I became hooked in my 1st class and have been involved in the industry at various levels ever since. Over the years, fitness, nutrition and better health have given me the strength and endurance to handle those challenges life presents!
I am so fortunate to have trainers and instructors at InFIT that really mean it when they tell you . . . "don't give up, you CAN do this". I would love the opportunity to give you the same message. With your commitment and my accountability we CAN achieve your goals together! LET'S GO!!
Train in a small group, commit to only one week at a time.
POWER.
STRENGTH.
ENDURANCE.
Please purchase a-la-carte TRAINING sessions to sign up. You are not able to use group exercise classes to register for this session.
Upcoming classes: