Yoga Sculpt- heated
This class is taught by: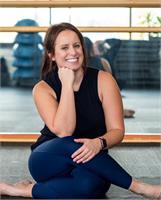 Kiz Gorham started practicing yoga in April of 2015 and was instantly hooked. She became 200-RYT certified in Elk River, MN. She believes everyone would benefit from a little yoga in their life. Whether you're coming to class to clear your mind and focus on your breath, or get that full body work out, she hopes to see you on the mat! Namaste!
Yoga sculpt is a total body workout combining traditional yoga sequencing with strength training designed to sculpt and tone every major muscle group in the body. This yoga class is set to energizing music and will push your strength to new heights. Strength training exercises such as squats, lunges, tricep and bicep curls and push-ups are incorporated throughout the practice to build lean muscle mass. This class will challenge individuals at all fitness levels. Don't forget water and a towel!
Upcoming classes: