Turkey TABATA
This class is taught by: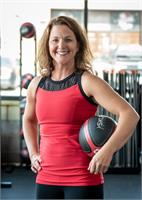 Theresa Eicher is a mother of 7 who realizes that the key to a healthy, stress-reduced lifestyle is a great workout or personal training session. Join Theresa weekdays at 5 or 6 a.m. for a variety of formats, or schedule a time for Rope Training, Buddy/Small Group Training or Personal Training. She is ready to help you reach your fitness goals.
TABATA is A high-intensity class of intermittent exercises. Tabata is specific interval training with maximum repetitions for 20 seconds, and resting for 10 seconds - for a total of 10 cycles, lasting 4 minutes per exercise. This class is great to break through stubborn plateaus and bring your fitness to a whole new level!