Kelly Powell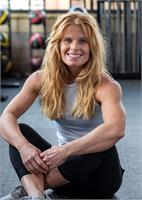 I'm Kelly Powell. I invite you to step out of your comfort zone, and be ok with being 'uncomfortable' – just for a bit. My teaching style is hard core and challenging, but with modifications appropriate for both the beginner and the elite athlete. My goal is to maximize each individual's personal health and fitness goals, and to tap into their true potential. Together, let's burn some serious calories, maximize your cardiovascular and muscular endurance, and have fun! My favorite classes to teach are Kickboxing, Group Strength, Insanity, Tabata, Cardio Mix, and Bootcamp.
In my spare time I choose 'running' as my go-to. As an experienced runner, I have completed road races of distances ranging from 5ks to 26.2 miles, and have gained valuable experience in trail running training for The Coastal Challenge, a 6-day stage trail race in Costa Rica, and the Transrockies, a 3-day stage race in Colorado. These experiences have helped to inspire and motivate me to design a speed training program called Run Strong. This training program is designed to reduce risk of injury, increase leg-speed turn over, and keep the mind 'fresh'! I became a personal trainer in 2010, and enjoy training individuals of all ages and levels. Personal training, to me, is about helping you look, feel, and perform like you never thought possible. My focus is to motivate, inspire, educate and encourage along the way.
Kelly Powell instructs the following:
Learn how to effectively strengthen your entire body with minimal equipment. This is a strength training class that will sculpt and tone all of your muscles.

This class is perfect for beginners and advanced fitness enthusiasts as you can set your pace and resistance!




Full-body boxing workout with our weighted boxing bags. Strengthen and tone your arms, legs, back, core and stamina. Empowering, exhilarating and totally addictive!

All levels welcome. Intensity encouraged.

Each client will need boxing gloves. Gloves and wraps at inFIT are $25!! Stop in to purchase or contact info@inFIT.org reserve yours. inFIT does have a few gloves for clients to use, first come, first serve basis.




The secret to these mind-blowing INSANITY workout results: MAX Interval Training. Shaun T took traditional interval training and flipped it on its head—you perform long bursts of maximum-intensity exercises with short periods of rest. Each INSANITY workout keeps you constantly challenged as you alternate between aerobic and anaerobic intervals performed at your MAX. The result: burn up to 500 calories in a half hour and get the most insane body in the shortest time possible. Add Shaun T's amazing AB workout and you will burn even more calories and get ripped abs FAST!

This workout is not suitable for individuals with heart problems.




This group exercise class series includes a variety of total body conditioning that involves both strength and cardio exercises to help maximize your time while creating an environment that increases your caloric burn and strength.

You can sign up for just one, or sign up for them all!

Attend all 6 classes (Nov 13,20,27 and Dec 4,11,18) in the CARDIO STRENGTH SERIES and WIN prizes!




Develop new skills and a strong core in our kickboxing class. Easy-to-follow combinations of upper-body punches, lower-body kicks, blocks and athletic drills make up this energy-packed cardio workout.

This high-intensity cardio class format will challenge beginners, so be sure to drink plenty of water and take breaks often!