Melissa Villagomez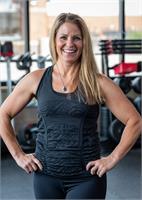 Boot Camp, Kickboxing, Cardio Resistance Training, and Strike! Melissa teaches it all!! Stop in and check out one of your favorite classes today!!!
Melissa Villagomez instructs the following:
Using weighted boxing bags, this high-intensity cardio and core interval training combined with kickboxing moves offers a dynamic, challenging experience. You'll keep your body guessing as you are pushed to use your personal power in every style of kick and punch all while sculpting and toning.

Each client will need boxing gloves. Gloves and wraps at inFIT are $25!! Stop in to purchase or contact info@inFIT.org reserve yours. inFIT does have a few gloves for clients to use, first come, first serve basis.




Condition your heart and burn calories in this cardio training class focused on cardio drills. Rotate through stations of cardio using various equipment such as the BOSU, stability ball, step and your own body movements. Each cardio circuit class is different; you'll be sure to get a great cardio workout. All fitness levels welcome!




TABATA is a high-intensity class of intermittent exercises. Tabata is specific interval training with maximum repetitions for 20 seconds, and resting for 10 seconds - for a total of 8 cycles, lasting 4 minutes per exercise. This class is great to break through stubborn plateaus and bring your fitness to a whole new level!




Develop new skills and a strong core in our kickboxing class. Easy-to-follow combinations of upper-body punches, lower-body kicks, blocks and athletic drills make up this energy-packed cardio workout.

This high-intensity cardio class format will challenge beginners, so be sure to drink plenty of water and take breaks often!




55 minutes of mixed formats including Strike, Kickboxing, Tabata, Cardio Drills, Step, BOSU, and abs. Designed to strengthen the cardiovascular system, tone muscles, and boost balance, flexibility, endurance and speed.




This class gives you maximum calorie burn while toning muscles. There will be 3 minutes of cardio, 2 minutes of strength, and 1 minute of abs that is repeated for a tremendous workout.

This interval class format will challenge beginners, so be sure to drink plenty of water and take breaks often!