Shaleigh Pysick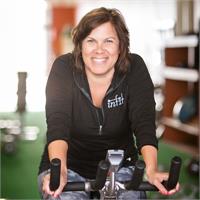 I took my first class at inFIT in 2010 and I am VERY glad that I did! I was so inspired by the excitement and enthusiasm I felt when I walked through the door, that I decided to join the inFIT team as a spin instructor. I hope to inspire others to achieve their fitness goals as I have been! Join me for a ride – I promise we'll have a lot of fun and burn some serious calories!
Shaleigh Pysick instructs the following:
Learn how to effectively strengthen your entire body with minimal equipment. This is a strength training class that will sculpt and tone all of your muscles.

This class is perfect for beginners and advanced fitness enthusiasts as you can set your pace and resistance!




Enter the world of indoor cycling! Climb hills, go for speed and develop muscular strength and power in your legs. Improve your aerobic endurance and push & pull your anaerobic threshold through speed and/or strength intervals.

This class is great for beginners, but remember, you're on a bike for 45 minutes, it's normal for your seat to be sore during or after class. Give spin 3-5 classes before you judge --it may just turn out to be your favorite!