Bethany Bienias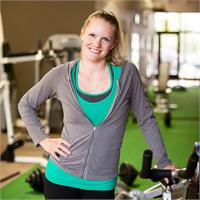 I found InFit while I was pregnant with my second child. The enthusiasm and positive energy of the entire staff kept me motivated to exercise throughout my pregnancy and after. This eventually led to me joining the InFIt team. As a Mom I know how challenging it can be to make time for exercise but I also know how important it is! I hope to share with you my knowledge and passion for fitness and help you achieve your own personal fitness goals.
Bethany has a B.S. in Kinesiology (emphasis in sport psychology) and is NETA certified in group fitness and group cycling.
Bethany Bienias instructs the following:
Join Bethany for this choreographed spin class ,where you will ride and work to the beat of the hand picked music set to motivate and improve your cardiovascular and muscular endurance!




Enter the world of indoor cycling! Climb hills, go for speed and develop muscular strength and power in your legs. Improve your aerobic endurance and push & pull your anaerobic threshold through speed and/or strength intervals.

This class is great for beginners, but remember, you're on a bike for 45 minutes, it's normal for your seat to be sore during or after class. Give spin 3-5 classes before you judge --it may just turn out to be your favorite!