Bethany Bienias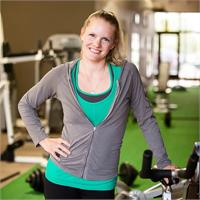 I found InFit while I was pregnant with my second child. The enthusiasm and positive energy of the entire staff kept me motivated to exercise throughout my pregnancy and after. This eventually led to me joining the InFIt team. As a Mom I know how challenging it can be to make time for exercise but I also know how important it is! I hope to share with you my knowledge and passion for fitness and help you achieve your own personal fitness goals.
Bethany has a B.S. in Kinesiology (emphasis in sport psychology) and is NETA certified in group fitness and group cycling.
Bethany Bienias instructs the following:
Enter the world of indoor cycling! Climb hills, go for speed and develop muscular strength and power in your legs. Improve your aerobic endurance and push & pull your anaerobic threshold through speed and/or strength intervals.

This class is great for beginners, but remember, you're on a bike for 45 minutes, it's normal for your butt to be sore during or after class. Give spin 3-5 classes before you judge --it may just turn out to be your favorite!




"A combination of strength and endurance" 10 exercises - 40 sec on - 20 sec off - 3 total sets + tough core at the end

To create the Spartacus Workout, we chose 10 exercises that collectively work every part of your body. Then we made each exercise a 60-second station so you can challenge your heart and lungs as well as your muscles. The final product is a high-intensity circuit designed to torch fat, define your chest, abs, and arms, and send your fitness level soaring. You'll sculpt a lean, athletic-looking body—and be in the best shape of your life.

This high-intensity interval class format will challenge beginners, so be sure to drink plenty of water and take breaks often!




BODYPUMP™ is the original barbell class that strengthens your entire body. This 55-minute workout challenges all your major muscle groups by using the best weight-room exercises like squats, presses, lifts and curls. Great music, awesome instructors and your choice of weight inspire you to get the results you came for – and fast! Like all the LES MILLS™ programs, a new BODYPUMP™ class is released every three months with new music and choreography.