Tara Pink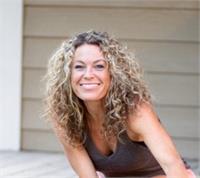 Tara is a Group Fitness Instructor and Personal Trainer at inFIT. Her favorite classes to lead are Spin, HIIT, CRT, Kettlebell, Spartacus, and Bootcamp.
"I'm motivated by recreation, music and people. I enjoy coming along side of friends and clients, encouraging them and creating an environment where they can put forth their best effort. inFIT is a great community of hard working individuals. I'm thankful to be a part of this place."
Tara Pink instructs the following:
Enter the world of indoor cycling! Climb hills, go for speed and develop muscular strength and power in your legs. Improve your aerobic endurance and push & pull your anaerobic threshold through speed and/or strength intervals.

This class is great for beginners, but remember, you're on a bike for 45 minutes, it's normal for your seat to be sore during or after class. Give spin 3-5 classes before you judge --it may just turn out to be your favorite!




High-intensity interval training is an enhanced form of interval training, an exercise strategy alternating periods of short intense anaerobic exercise with less-intense recovery periods. HIIT is an efficient use of time, combining TABATA, Plyometric, Bootcamp, and Cardio Mix formats providing a heart-strengthening, fat-burning work out. With time at the end of class for ab work.




"A combination of strength and endurance" 10 exercises - 40 sec on - 20 sec off - 3 total sets + tough core at the end

To create the Spartacus Workout, we chose 10 exercises that collectively work every part of your body. Then we made each exercise a 60-second station so you can challenge your heart and lungs as well as your muscles. The final product is a high-intensity circuit designed to torch fat, define your chest, abs, and arms, and send your fitness level soaring. You'll sculpt a lean, athletic-looking body—and be in the best shape of your life.

This high-intensity interval class format will challenge beginners, so be sure to drink plenty of water and take breaks often!




Come get your fight on! Throw your strength into weighted boxing bags, grab dumbbells for strength training intervals- the whole time your heart rate will be up and your lungs and muscles will be fighting to keep up. Hard. Fun. Whole body fitness in less than an hour.
All levels welcome. Intensity encouraged.

Each client will need boxing gloves. Gloves and wraps at inFIT are $25!! Stop in to purchase or contact

info@inFIT.org

reserve yours. inFIT does have a few gloves for clients to use, first come, first serve basis.