Angela Moon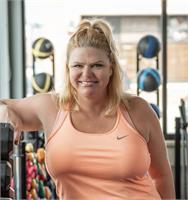 I had been coming to InFIT as a client for over two years and during that time, I was so inspired by all the positive energy, I decided I wanted to join the team. My two passions are Step and Group Cycling! I hope to inspire clients as I have been, and show them that working out is not something you "have" to do, it is something you "get" to do!
Angela Moon instructs the following:
Join us to tone and tighten those stubborn areas (thighs, butt and abs). We will use a variety of bands, weights, and balls to tone and tighten our major muscle groups while building endurance. If you are ready to build and maintain long and lean muscles, this class is for you!

This class is perfect for beginners and advanced fitness enthusiasts as you can set your pace and resistance!




Enter the world of indoor cycling! Climb hills, go for speed and develop muscular strength and power in your legs. Improve your aerobic endurance and push & pull your anaerobic threshold through speed and/or strength intervals.

This class is great for beginners, but remember, you're on a bike for 45 minutes, it's normal for your seat to be sore during or after class. Give spin 3-5 classes before you judge --it may just turn out to be your favorite!




Get it ALL done in 55 minutes! 30 minutes of Cardio and 30 mintutes of strength! Great music and a great workout!