Chhin Chhem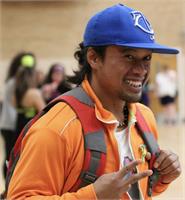 Chhin is a father, life partner, friend and role model to all those fortunate enough to cross his path. He absolutely loves to spend time with his children, life partner, family, and friends. He has the power to bring people together with his energy, hip-shake, and smile. When he is not spending quality time with loved ones, Chhin loves to teach Zumba, dance like no one is watching, and share his amazing fitness journey with diverse people and communities.
Chhin took his first Zumba class in 2010 and was immediately hooked and fell head over heels for the Latin rhythms. Chhin danced a few extra pounds off and Zumba awoke his spirit. His Zumba passion is what sparked the interest to dive deeper into this format and he decided he wanted to teach. He decided to take Zumba Instructor training and has been teaching Zumba since 2011 and has enjoyed every moment. Zumba completely and positively changed his life, perspective and opened up oceans of opportunity to dance, collaborate and be part of the Zumba movement. Chhin wholeheartedly believes that everything happens for the perfect reason and the perfect moment. The Zumba community truly gave him the chance to share his talents, gifts and meet some amazing people along the way, including his life partner and mother of his beautiful children.
Chhin dreams of sharing his passion and talent with people around the world and spread the love for dance and fitness. Unfortunately, no words will do Chhin justice or can express how amazing this man is at his craft so you will just have to come and check out his Zumba class.
Chhin Chhem instructs the following:
Zumba is a Latin-inspired dance-fitness class that incorporates Latin and other International dance music and movements. The easy-to-follow dance movements combine fast and slow rhythms to tone and sculpt the body, while providing a cardiovascular workout.

This fun class is full of twists and turns so individuals with knee and back issues, proceed with caution.