Donielle Kasper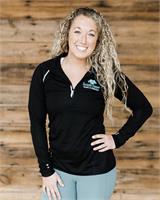 Hi, my name is Donielle Kasper and I am so happy you are here! Health and wellness is something I am extremely passionate about! My goal is to inspire and help as many people as possible. Whether it's helping someone lose weight, lose body fat, get stronger, reduce blood pressure, get off medication, sports performance, change lifestyle habits, or just improve overall function. The first step is getting started, you are already here so that is a great start!
My passion all stems from helping people around me. Helping people realize that they can live a healthy lifestyle and are much stronger than they ever thought they could be! I truly believe that we should live our life to the fullest and feel great while doing it. Ultimately we all want to live a HAPPY LIFE!
Donielle Kasper is currently not instructing any classes.