Shannon Immer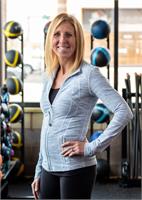 Shannon Immer has been gracing the fitness industry for over a decade. Her love of children, running, and her family make Shannon an exceptional leader at inFIT. Shannon is dedicated to bringing you excellence client service and the best fitness experience available. Next time you're in the club, say hi to Shannon, ask her a question, and you'll soon become fast friends-- and see why she is one of the world-class directors at inFIT.
Shannon Immer instructs the following:



10 min appointment to get immediate information and a print out of your personal data from our Full Body Composition Scale.

Get your numbers for weight, body composition of water, muscle and body fat ratios.

Want to dive into this information more deeply? Meet with one of our Personal Trainers for a Fitness Assessment to

identify specific challenges make a plan for your fitness and wellness goals!