Complete the form below to receive our "3 Class Pass" New Member Special Offer. Join our inFIT community of individuals discovering better health together!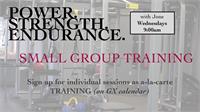 Power.Strength.Endurance

with

Jone

Briese
Next held on Wed, Nov 14, 2018 at 9:00 am - 9:55 am
This
enrollment
runs from Wed Nov 7, 2018 - Wed Dec 19, 2018
Online registration is closed. Please contact us for details.